No More Excuses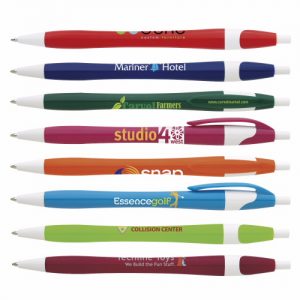 We managed to put to put together a very time limited special on Bic Dart pens. These beautiful pens come in eight different barrel colors, blue or black ink and three different colours to imprint your brand on the barrel.
The regular retail price of these pens is 66 cents each. That means you are saving $101 over retail pricing when you buy the minimum quantity of 300 pens. Here is the best part. That price of $97 plus $25 for shipping and handling, for 300 pens includes a one color imprint on either the barrel or clip and there is no setup fee to do so.
If you want to add more colors to your imprint or imprint both the barrel and the clip, just let us know when we confirm your order.
These pens are perfect to use day to day in your business, leave behind with your clients, and drop them in gift bags at golf tournaments. We even had one client that put a pen in their direct mail promotion to make the envelope lumpy. It increased their open rates and sales as a result.
This is one of the best values we have come across for our customers, But I urge you to take advantage of this now. On July 31st the offer will expire and if you put this off you will miss it. Don't allow that to happen to you. Click the button below to order now.
Price Goes Back to $198 On August 1st