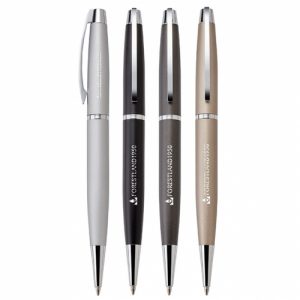 The cornerstone of your branding and promotions would be writing instruments. Everyone uses them, needs them and lose them. It has been said you can never have too many pens.
It goes without saying you should have your branded pens throughout your business for all your staff to use. It provides congruence to your marketing message if all your staff members are using, losing and giving away your pens. Your sales staff should be using company pens to fill out your sales orders. Of course, they should be left behind with all clients.
Unlike business cards that tend to get wrapped up in elastic bands and stuffed into a desk drawer, writing instruments are used. They are in the hands of your customers. Putting your name and phone number in front of them.
We also carry a wide range of luxury pens, like Cross and Waterman. These exquisite products make excellent gifts, and awards recognizing exceptional clients and employees.
Below are just a few samples of the hundreds of choices we provide our clients when it comes to writing instruments. For more information, you can call us directly at 1-(844) 638-3750, fill out the contact form at the right, or request a catalogue.
Don't Be Shy
Drop us a line anytime, and one of our customer service reps will respond to you as soon as possible