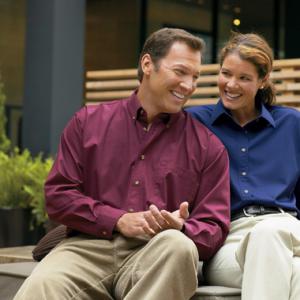 Logoed clothing is one of the many promotional products we offer at Great Promotional Products. Logoed clothing has many uses for your business. It provides your staff a consistent corporate look to the public both in and out of your business. Perfect for when you attending trade shows and conferences. A logoed golf shirt can be a highly coveted gift from your clients and sought after prize at golf tournaments.
Many of our clients will use logoed clothing as a whole new revenue source, by selling their golf shirts, t-shirts, ball caps, and hoodies. If you are sponsoring a local sports team, we can put your name in front of all their fans.
Would you like to build a brand army? One well-known marketer would outfit all the attendees of his conference with his branded t-shirt for a group photo at his conferences. It provided a ton of social proof. More importantly when the attendees returned home and wore their t-shirts, his exposure grew exponentially. Another brilliant marketer at a recent conference of 4000 internet marketers gave away t-shirts to attendees that purchased his product at his booth. These customers proudly wore these t-shirts over the three day event, driving even more traffic to their booth of people that wanted their free t-shirt.
Even special events can be made more special with logoed clothing. Family reunions, milestone birthday parties, retirements are one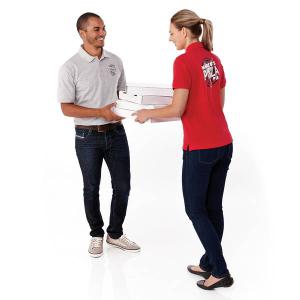 of many special events that can be commemorated with logoed clothing.
As you can see logoed clothing goes well beyond corporate uniforms.
We offer a wide variety of clothing such as t-shirts, hoodies, caps, fleece jackets, softshell jackets, outerwear, toques, athletic wear, sweatpants and more. From manufacturers Alpha Broder, Trimark Sportswear, Sanmar Canada, Technosport and Canada Sportswear and name brands like Nike, Adidas, American Apparel, Eddie Bauer, Antigua, Bella + Canvas, Alternative, Marmot, Under Armour, Devon & Jones, Harrington, Gildan, Fruit of the Loom, Russel Athletic, Champion, Puma, Flex Fit, New Balance and more.
Below are just a few samples of the hundreds of choices we provide our clients when it comes to logoed clothing. For more information, you can call us directly at 1-(844) 638-3750, fill out the contact form at the right, or request a catalogue.
Don't Be Shy
Drop us a line anytime, and one of our customer service reps will respond to you as soon as possible